Secure, convenient banking – anytime, anywhere
with the HSBC Debit Mastercard® card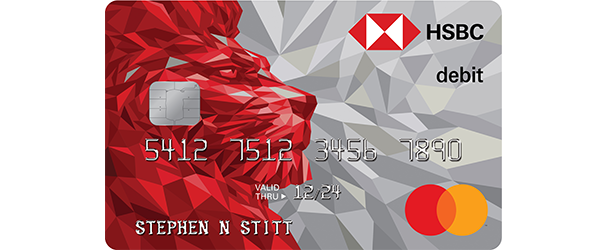 Peace of mind
Shop with confidence knowing your chip card is more difficult to duplicate than traditional magnetic stripe cards, when used at chip-enabled terminals.

Shopping convenience
Use the contactless payment feature, where available, by tapping your card at checkout to complete many smaller purchases.

Worldwide acceptance
Improved experience when making purchases abroad – chip cards are quickly becoming the preferred method of payment for merchants around the globe.

Save on fees
No transaction fees when making domestic purchases, and no additional annual or monthly service fees2 for HSBC Debit Mastercard® card.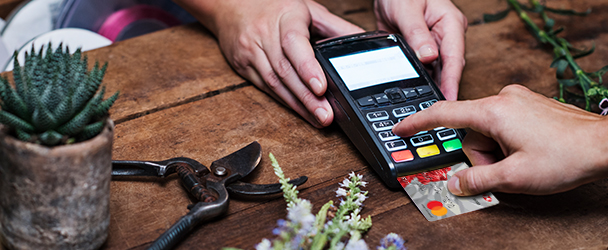 Added security and worldwide acceptance
HSBC chip cards use encryption technology to verify your card at the time of purchase. This makes it harder for your card to be duplicated, and provides an additional layer of protection. Worldwide, chip cards are the standard method of payment, and are quickly growing in acceptance across the United States.
How to use your debit card
When making purchases at a chip-enabled terminal, simply follow these steps:
As shown in the illustration, insert your card into the terminal instead of swiping it.

Your card should remain in the terminal for the entire transaction.

Remove your card once the transaction is complete.

If required, enter your Personal Identification Number (PIN) and follow the prompts.

1 You may be charged additional fees by the ATM operator or network used including a fee by another HSBC entity operating ATMs outside the U.S. Foreign currency conversion rates may still apply.

2 If you effect a foreign transaction on your HSBC Bank Consumer Checking or Savings account at an EFT facility with your HSBC Debit Mastercard® card, the transaction amount may be further increased by a percentage established from time to time by us. This Foreign Transaction Fee does not apply to transactions using your HSBC Jade World Debit Mastercard® card or HSBC Premier World Debit Mastercard® card.
HSBC Debit Mastercard® cards are issued by HSBC Bank USA, N.A.
Mastercard is a registered trademark, and the circles design is a trademark of Mastercard International Incorporated.
Deposit products are offered in the U.S. by HSBC Bank USA, N.A. Member FDIC.