How do I obtain an ATM or debit card with my consumer HSBC checking or savings account?
What's the difference between the ATM card and the debit card?
Why does my HSBC debit card have a chip?
How do I use my chip-enabled debit card?
Where can I use my chip-enabled HSBC debit Card?
Will I have to do anything different to use my chip-enabled Debit card?
What is contactless chip technology?
Are contactless transactions safe?
Are there any additional fees with my new chip-enabled card?
How does the chip make my HSBC debit card more secure?
Can I request a non-chip-enabled card?
Can I use my chip-enabled card for Internet and telephone transactions?
Should I be worried that my personal information is vulnerable if my card gets lost or stolen?
If I have multiple HSBC deposit accounts, which ones will I access with my ATM or debit card?
How do I change the PIN for my ATM or debit card?
What should I do if my card is lost or stolen?
Contactless Functionality FAQs
What are contactless payments?
How do I perform a contactless payment?
Where can I use my contactless card?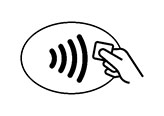 1 Covers U.S.–issued cards only. Mastercard's® Zero Liability Policy does not apply to commercial credit card or ATM transactions, or to PIN-based or other transactions not processed by MasterCard®, or if you are grossly negligent or fraudulent in handling your card or card number. Your card account must be in good standing, and you must report all unauthorized transactions as soon as possible. You may not be covered if you have reported two or more unauthorized transactions within the last 12 months. Certain unauthorized transactions require a cardholder signature prior to issuing provisional credit.
HSBC Debit Mastercard® cards are issued by HSBC Bank USA, N.A.
Mastercard® and the Mastercard brand mark are registered trademarks of Mastercard International Incorporated.
Deposit products offered in United States by HSBC Bank USA, N.A. Member FDIC.